Table of Contents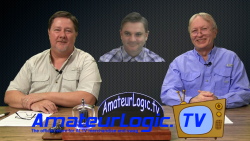 Welcome to the AmateurLogic.TV Wiki
Where Can I Watch

Show Hosts

Shows
About AmateurLogic.TV
AmateurLogic.TV is the first and longest running Internet television program dedicated to Amateur Radio and Technology.
The show began in October 2005 shortly after Hurricane Katrina came aground. Three hams in the Jackson, MS area decided to produce a show about technology and ham radio. Internet video was just becoming a reality and made it possible to share their experiences with an anxious audience that had been ignored by mainstream media.
In June of 2007 Peter, a ham from Melbourne Australia, joined the group to bring a downunder perspective to the show.
AmateurLogic.TV continues to present interesting information and fun on or about the 15th of every month. Since it's inception, AmateurLogic has built a loyal fan base all over the globe who have watched the episodes more than half a million times.
We welcome questions, comments and suggestions from our viewers and often read them on the show. Thanks to our viewers, the AmateurLogic.TV community continues to grow each month. We all share common interests and feel privileged to have this great forum for sharing the knowledge, experience, and excitment that is Ham Radio.
Here on the Wiki you will find show notes, tips, links, etc.
Where Can I Watch
1. iTunes
You can download both the video and audio versions of Amateurlogic at ITunes and better still, if you subscribe you can have the episodes downloaded to your Idevice automatically! Don't forget to give us a review and a rating at Itunes because it helps our ranking on the Tech Podcasts charts.
2. Roku
If you have a Roku box you can add AmateurLogic.TV to your channels and watch the show on your television. Go to the Roku Channel Store and search under 'Science and Technology'. You will find AmateurLogic.TV listed there. Click on our logo then choose Add Channel. Now AmateurLogic will appear in your channel listing.
3. Amateurlogic.TV website
4. Watch on Youtube
Merchandise
Show Hosts
George Thomas (W5JDX)

Tommy Martin (N5ZNO)

Peter Berrett (VK3PB)
Shows Notes